Rick's Picks
Chelsea Wolfe – Abyss
Failure – The Heart Is A Monster
Deafheaven – New Bermuda
Kendrick Lamar – To Pimp A Butterfly
Faith No More – Sol Invictus
Bjork – Vulnicura
The Zou – Kills, Part 2
My Dying Bride – Feel the Misery
Kylesa – Exhausting Fire
Maranatha – Filth
Kitchen Knife Conspiracy – Seven Deadly Sins
Black Wing – …is Doomed!
HEALTH – Death Magic
Sunn O))) – KANNON
Eagles of Death Metal – Zipper Down
Queen Kwong – Get A Witness
Bosse-de-Nage – All Fours
Ty Seagull – Ty Rex
Tame Impala – Currents
ALBUM – Majestic SilverEye
New Order – Music Complete
Sannhet – Revisionist
Oneohtrix Point Never – Garden of Delete
The Decemberists – What A Terrible World, What a Beautiful World
Puscifer – Money Shot
Sevi's Picks
Kamasi Washington – The Epic
Sufjan Stevens – Carrie and Lowell
Colin Stetson and Sarah Neufeld – Never Were the Way She Was
Sunn O))) – KANNON
Hanz – Reducer
Mantana Roberts – Coin Chapter Three: River Run Thee
Björk – Vulnicura
Vince Staples – Summetime 06'
Joanna Newsom – Divers
Da$h – 17 More Minutes
Kendrick Lamar – To Pimp a Butterfly
Death Grips – The Powers That B
Earl Sweatshirt – I Don't Like Shit, I Don't Go Outside
FLOOR BABA – Gamewave
Tame Impala – Currents
milo – So the Flies Don't Come
Beach House – Thank Your Lucky Stars
HEALTH – Death Magic
New Order – Music Complete
Wilco – Star Wars
Oneothrix Point Never – Garden of Delete
Father John Misty – I Love You, Honeybear
Ghostface Killah & BADBADNOTGOOD – Sour Soul
The Internet – Ego Death
Future – DS2
Fred Whitacre (Kitchen Knife Conspiracy/Raw Alternative Co-Conspirator)
2015.  This year felt very refreshing.  I almost felt overwhelmed at times because there seemed like there was a new release I was stoked about every single week.  In fact, at first, I had a list of 20 albums I really loved.  I narrowed it down to 10.  So, sincere apologies to Ben Folds , The Underachievers and Failure–you get left on the lengthy honorable mentions this year.
Honorable Mentions:
Low, Ones and Sixes
Ben Folds, So There
Lamb of God, VII: Sturm und Drang
Failure, The Heart is a Monster
Muse, Drones
The Underachievers, Evermore: The Art of Duality
Freddie Gibbs, Shadow of a Doubt
Iron Maiden, The Book of Souls
Chelsea Wolfe, Abyss
Here's my 10 favorite albums of 2015:
#10 – Chris Cornell, Higher Truth
I think Mr. Cornell has been wanting to make the album for a long time.  His first solo effort Euphoria Morning (or Euphoria Mourning as he's labeling it for the re-release–which seems quite daft) was pretty solid.  But his solo effort since have been less effective.  Especially his foray into hip-hop (if that's what you want to call it)–Scream.  Yikes.  That album was pretty terrible.  However, he's hitting all the right marks with Higher Truth.  Lyrically, he seems devoted to searching for a larger meaning in life on many of the tracks.  Or he displays overt confidence and vulnerability at the same time on "Let Your Eyes Wander."  I believe he's always wanted to create an album with a cutting honesty, while staying in a mostly acoustic vein.  That's what he's achieved here.  I didn't mind the latest Soundgarden release.  But I think the songwriting on Higher Truth is much more precise.  It's a worthwhile listen, and I've revisited it countless times over.
#9 – Marilyn Manson, The Pale Emperor
No, this list isn't only going to be filled with '90s rockers returning to past glories.  However, this album DOES it for MM.  His last several efforts have always blended together to me.  I enjoyed Mechanical Animals quite a bit.  But after that, only Eat Me, Drink Me has grabbed my attention in the slightest.  But this album is a powerhouse.  He's like a sexy, satanic lounge singer, spewing nonsense to the underworld.  There's a subtlety here, but the darkness in the undercurrent never fully engulfs the listener.  I know he likes to change lineups and songwriting partners here and there, but he shouldn't mess with this formula.  This is a great album from start to finish.  If you need a key track, "Third Day of a Seven Day Binge" is it.  But the album has no filler.
#8 – My Dying Bride, Feel The Misery
My Dying Bride is one of the most respected acts in doom metal.  There's a prolific sadness carried by this entire album.  In fact, between this and Chelsea Wolfe's Abyss, I could see how a person could be driven into a depression coma in 2015.  Guitarist Calvin Robertshaw has returned for this, their twelfth album.  It's another epic.  Eight songs clocking in at just over 62 minutes.  Aaron Stainthorpe bellows and howls in his melancholy ways–and it works every time.  Tracks "And My Father Left Forever" and "A Cold New Curse" stick with me the most.  But if you want dark, downtrodden metal done by the best in the world, this is your fix.
#7 – Ghost, Meliora
Ghost gets a lot of hatred in metal circles.  I've seen them twice, and even I was floored by the amount of meat heads in the crowd.  I think they opened for Metallica or something.  I dunno.  But people see the costumes and the gimmick, and they automatically want to tune them out.  But I can't dislike this band.  I loved their first full length–in fact, it was my favorite album that year.  But I hadn't even SEEN what they looked like yet.  So, by the time the gimmick was presented to me, I was already in love with the music.  So, they're one of my favorites, Nameless Ghoul gimmick be damned.  Once again, a solid album from start to finish.   The best song on the album is "Deus In Absentia"–and the chorus hook will stay in your head for days.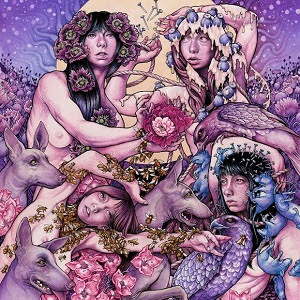 #6 – Baroness, Purple
I came into this thinking that there's no way they could top their last effort, 2012's Yellow & Green.  I was right.  This isn't as good as that album.  But it's damned close.  In fact, I've only had about two weeks to listen to this album.  It might continue to grow on me.  Baroness hipsters are already complaining that this is the band's BLACK album.  Selling out like Metallica.  Whatever.  Piss off.  This is a great disc.  Wonderful songwriting.  Epic performance.  Every single chorus is catchier than the last.  "Shock Me" and "Chlorine and Wine" are the first singles–and for good reason.  But this album feels best as a whole.  Every once in a while, methinks the Mastodon effect is reaching these boys a bit too much.  But that's my only concern.  Otherwise, I know this band will continue to make top notch records every couple of years.  I just started listening to this, and I am already foaming at the mouth, waiting to see what they do next.  Oh, also, they're great live.  Don't miss a chance to see them.
#5 – Hayden, Hey Love
Canadian and great, Hayden is now on to his eighth album, Hey Love.  This is very simplistic in its design.  Most of these songs are constructed with warm bass guitar, drums, acoustic guitar and a few keys or strings thrown in.  As always, the star is Hayden's voice.  As he gets older, his voice sounds more worn, yet more earnest.  Better, I'd say.  His albums are all quite different, but I love this return to pure, straight-forward songwriting.  "No Happy Birthday"–a song written after his child told him that he'd have trouble writing a song as catchy as Happy Birthday–is my favorite song of 2015.  Other standout tracks include "Hey Love" and "Shelter."  Do yourself a favor and listen to all of his albums.  You won't regret it.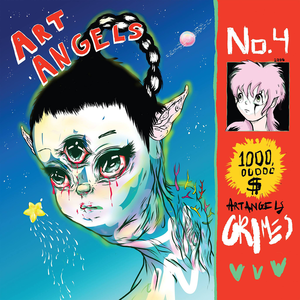 #4 – Grimes, Art Angels
Most pop music is pretty awful.  But this is excellent pop music.  My ears need bubble gum from time to time, and Art Angels is the chewiest, most delectable gum I've had in years.  Grimes is now on her fourth album, and she's learning how to do this song writing thing very proficiently.  Also, like Hayden above, she's Canadian.  Go Canada, eh?  These songs feel more mature and much easier to consume than her past efforts.  As with Baroness above, the Grimes fans are complaining that this album is too catchy and that it will bring out all of the "non-fans".  If so, count me in as one of those.  Her other albums just never held my attention, but this one keeps it all the way through.  The redone version of "RealiTi" (which was released earlier this year as a single) and "Flesh Without Blood" are great–but don't skip out on "Kill V. Maim" or "California"–in fact, just listen to the entire album a bunch of times.  I dare you to avoid getting hooked.
#3 – Bjork, Vulnicura
Bjork doesn't always do it for me.  I know she's weird and unique.  I love that.  But sometimes, she seems like she's trying too hard to be odd.  Like, once the eyes of society/music culture are upon her, she wears a swan dress or beats up a reporter.  The reason this is my favorite Bjork album ever is because it finds her at her most vulnerable.  Like Beck's Sea Change, a break-up has forced her to confront her own loneliness with song.  In fact, this album's liner notes have listed how long after or before her break-up she wrote the song.  It feels like she is fully exposed and often lost.  The orchestration is some of the best I've heard from a modern artist.  "Stonemilker" is gut-wrenching, but you also must visit "History of Touches" (wow–lyrics–wow) and "Black Lake" are also excellent from top to bottom.  This is her finest hour.  In her sorrow, she's created the soundtrack to heartache.  It's breathtaking.
#2 – Steven Wilson, Hand.Cannot.Erase.
Before I get into this album, I want to tell you what inspired it.  Wilson said it was inspired by the story of Joyce Carol Vincent, a young woman who died in her loft, and no one noticed she was gone for over THREE YEARS.  Her body was alone for that long, and no friend or family member cared to find her.  That's loneliness.  This album treats solitude and isolation with artistic strokes abound.  Steven Wilson is the mastermind behind Porcupine Tree, a band who has obliterated the universe with countless releases over the past almost thirty years.  This is Wilson's fourth solo record, and it's his best.  I also got to see him pull this off live in a small theatre in Pennsylvania this year.  It was one of the best concerts I've ever seen.  Melodic themes revisit throughout the album, sometimes in different forms.  It feels more like a book than a record.  "Routine" is one of the saddest songs I've ever heard.  Watch the music video on YouTube if you want to weep a bit.  Steven Wilson is one of the greatest songwriters alive today, and this is his finest hour.
#1 Faith No More, Sol Invictus
This is fairly predictable, if you know me.  Faith No More is my favorite band, and this is their first original release since 1997.  It would almost have been number one before I heard it.  But once I heard it, I knew my life had instantly gotten better.  They seem like they haven't missed a step.  Many of these songs will jump right into their set list, and will feel right at home with the rest of their discography.  Is it as good as 1992's Angel Dust?  Nope.  Is it as amazing as The Real Thing?  Nah.  But both of those album were redefining GENRES of music.  This album is the band just trying to redefine itself.  They're all older.  Several side projects and life lessons under their belts.  It hits on all the FNM watermarks. From the chaos of "Separation Anxiety" into the epic thunder of "Matador" to the rage of "Superhero"–this album has it all.  I feel like I've waited a lifetime.  Please, Faith No More.  Please.  Please be here to stay.